Aubergine parmigiana is a really good dish that many Italian cities and regions compete for, but only Sicily can be considered the real inventor of this traditional Sicilian dish.
We are not the only ones to say this, but theAccademia della Crusca, the body that controls the language in Italy, which traces the term parmigiana back to the Sicilian word parmiciana.
Just hearing about this wonderful dish with its authentic smells makes the mouth water and stimulates the appetite, which is why we are now going to explain how to prepare aubergine parmigiana in the comfort of your own home.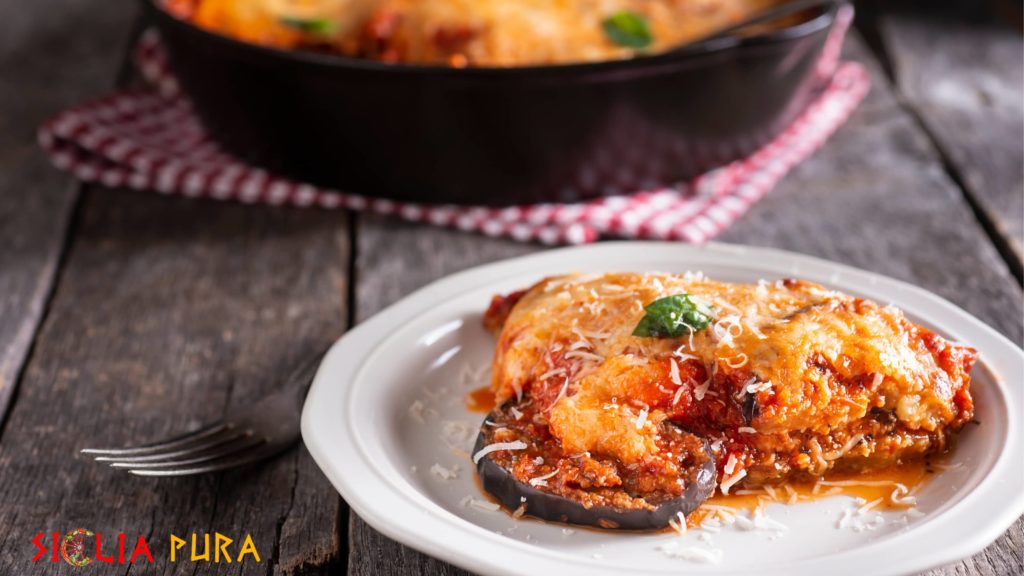 ---
How to prepare aubergine parmigiana
Let's start the process of preparing this excellent dish, which is suitable both for a dinner and a lunch with family or friends and which can well be indicated as a complete meal.
Let's first see what the ingredients are:
1.2 kg of oblong Sicilian aubergines.
½ litre of tomato puree.
300 grams of fresh mozzarella.
1 onion.
100 grams of finely grated Parmesan cheese.
1 clove of garlic.
1 litre of frying oil.
1 bunch of basil.
Olive oil, salt, pepper
Given the ingredients? When we told you that parmigiana can easily be enjoyed on its own as a main dish, we were right...or were we?
---
---
Preparation
After preparing all the ingredients, all you have to do is clean the aubergines and then cut them into slices about half a centimetre thick.
After doing this, take a large colander, sprinkle the aubergine slices with salt and leave them to dry. Cover the aubergines with a plate, the pressure will allow them to drain better. Leave them to rest for 1 hour.
In the meantime, you can devote yourself to doing the rest: fry the onion and garlic in 3 teaspoons of evo oil. After removing the garlic, add the tomato puree, basil and pepper.
The sauce is cooked for about 20 minutes. But it's not over yet! Take the aubergines and drop them into the frying oil, which has previously been brought to the boil! We recommend frying only a few aubergines at a time and placing them on absorbent paper, not on top of each other after frying.
The procedure is almost finished, don't worry: now you have to take an oven dish and sprinkle the base with a pinch of oil and sauce, then start arranging the aubergines: cover them with parmesan cheese, sauce and slices of mozzarella and continue to make layers until you have finished the ingredients.
After this, bake the parmigiana in the oven for 30 minutes at 180°.
---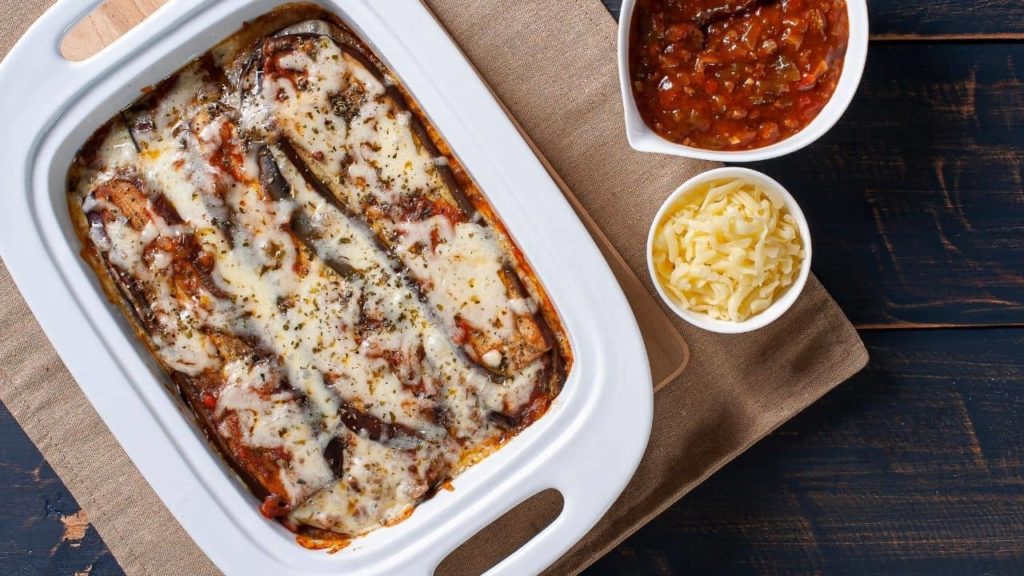 ---
Conclusion
We're going to let you in on a little Sicilian secret: aubergine parmigiana is even better if it's prepared in advance: making it the day before and then serving it hot and warm with stringy mozzarella will make your table a guaranteed success. This dish was in fact created to recycle what was left in the fridge in peasant homes, but aubergines in our land are really delicious and have created a dish that we are envied all over the world. In fact, they are used in many other recipes that are worth trying, such as pasta alla norma.
---
---
---