There are so many typical Sicilian dishes and choosing just a few is a real pain for us; however, we would like to give a few pointers to those coming to this beautiful island to start a proper food and wine tour.
Our sea and land provide high quality ingredients that we transform into dishes that are unparalleled anywhere in the world!
Let's take a look at some traditional Sicilian dishes that are impossible not to try.
Typical dishes of northern Sicily
A proper food and wine tour cannot just present the typical recipes of the region but must also go into the specifics of the culinary specialities, which is why in this paragraph we will talk about the northern part of Sicily, which has typical specialities that cannot be forgotten.
One last thing before we start, in this part of the island it is called Arancina!
Trapanese couscous
---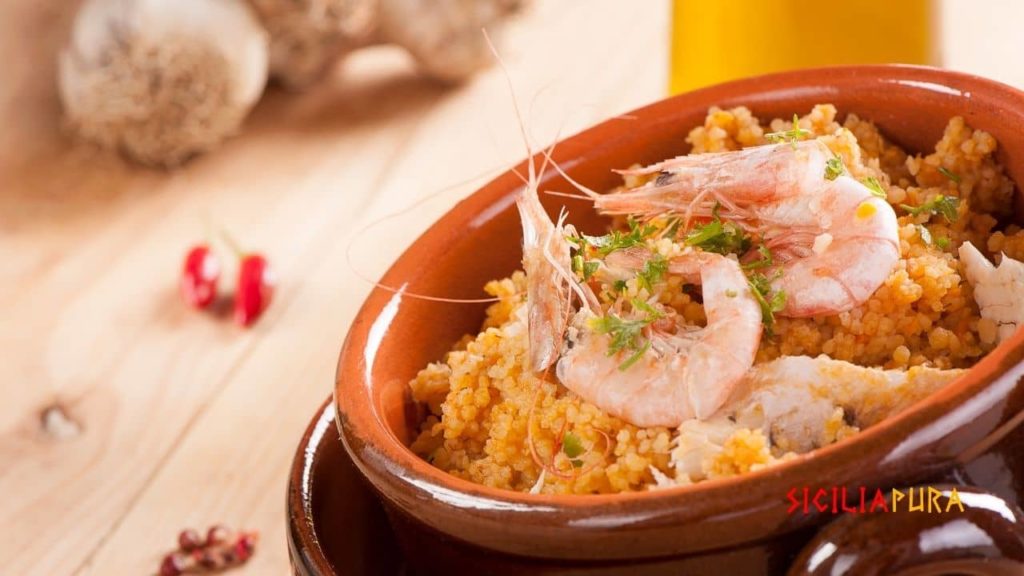 ---
Couscous alla Trapanese is a fish dish that should definitely be on the menu when travelling in Sicily.
This typical Sicilian dish comes from the poor tradition but with time has been exalted to a real speciality copied all over the world.
Served with durum wheat semolina, fish, prawns and clams and sprinkled with paprika and saffron, this is a must for anyone who really loves seafood.
---
Spaghetti with Bottarga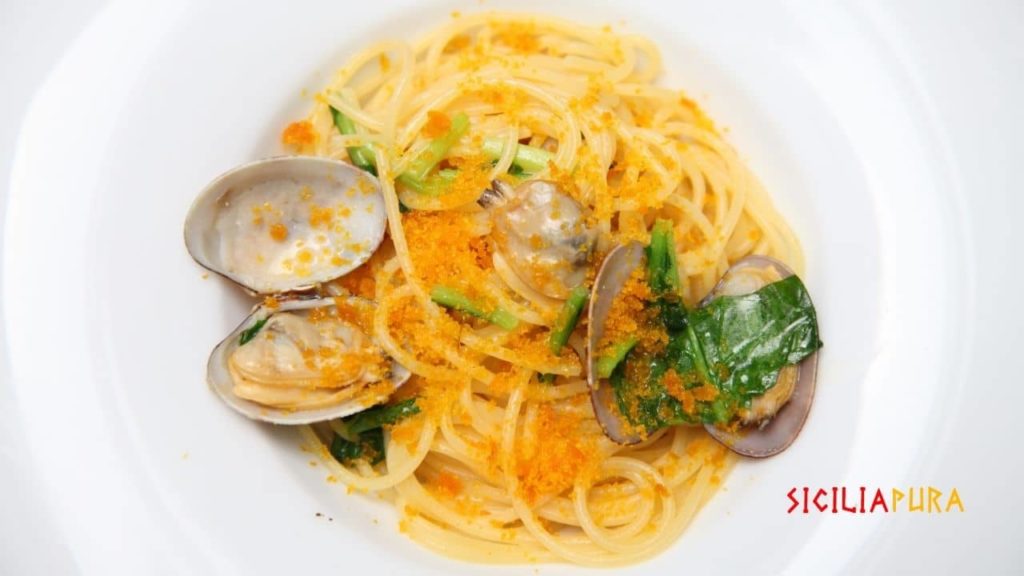 ---
Bottarga is an unparalleled Sicilian product with a very strong taste. It is made by drying the eggs of mullet or tuna and we in Sicily have a very good production of this fish speciality.
Trying it with spaghetti cooked al dente in a real Sicilian restaurant that knows how to bring out the smell and taste is unparalleled and we highly recommend you do it.
---
---
Typical dishes of southern Sicily
The south of Sicily has had a different kind of contamination, different dominations and has given rise to recipes that are completely different from those found in other parts of the island.
Let's take a look at a couple of these recipes in detail, we've selected a few but you'll have plenty to try if you just want to find out.
Avola almonds
---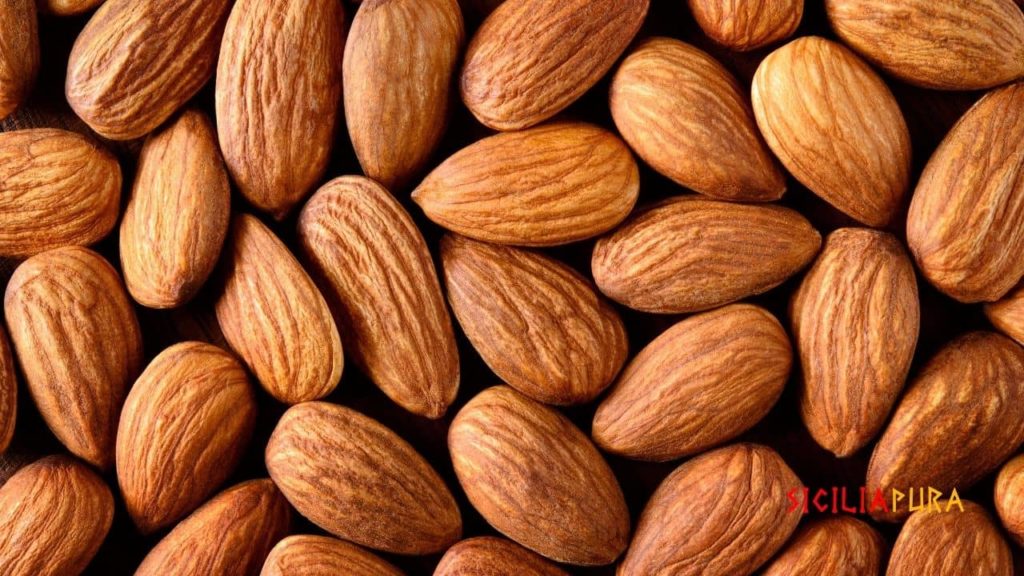 ---
Almonds from Avola, in the province of Siracusa, are a typical Sicilian product that absolutely must be tried. Throughout Sicily, almonds are used in many recipes, but only here can you find the best almonds in the world.
Avola almonds are a speciality of this land and even the botanist Giuseppe Bianca studied and catalogued these almonds in the second half of the 19th century. If you come to Sicily, we recommend that you try them loose or in the variant of risotto with almonds, which is excellent and unusual.
Pasta with broad beans and ricotta cheese
---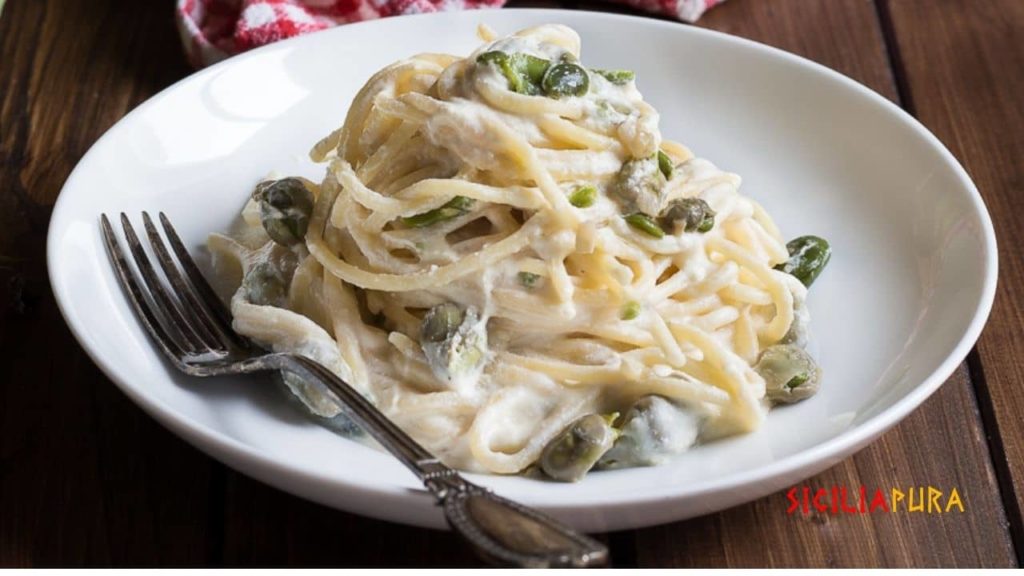 ---
---
For those who want to try one of the typical Sicilian dishes, tasting pasta with broad beans and ricotta cheese in the many restaurants is a unique opportunity.
This typical pasta is a traditional first course with strong and delicious colours and smells. Preparing this pasta is quick and easy, and it is served with a cream of fresh broad beans and ricotta cheese that combine really well and create a unique flavour.
Conclusion
These are just a few of the typical Sicilian dishes, so our advice is to try them all, taste them all and set out to discover this island, not only by trying the ones we have recommended but also many others.
Let yourself be guided by your personal taste, discover each dish and don't miss our desserts, which are delicious!
---
---