Sicilian products, let's face it: when we go on holiday or on a trip out of town to discover a new territory, expectations are high and we want to enjoy everything, to be fascinated and bewitched. Well, Sicily is one of those places where reality far exceeds expectations.
Visiting Sicily means letting yourself be overwhelmed by an area rich in flavours and tasty delicacies prepared with local raw materials and with a mastery that comes from expert hands, that is, from a long tradition that reaches back to the present day.
Sicilian products: 6 specialities to taste
We don't want to waste too much time and that's why we really need to start now. The ability to protect the territory and its richness and to keep traditions alive allows Sicilian products to remain in a certain sense pure and ready to be enjoyed.
Sicilian cannoli and cassata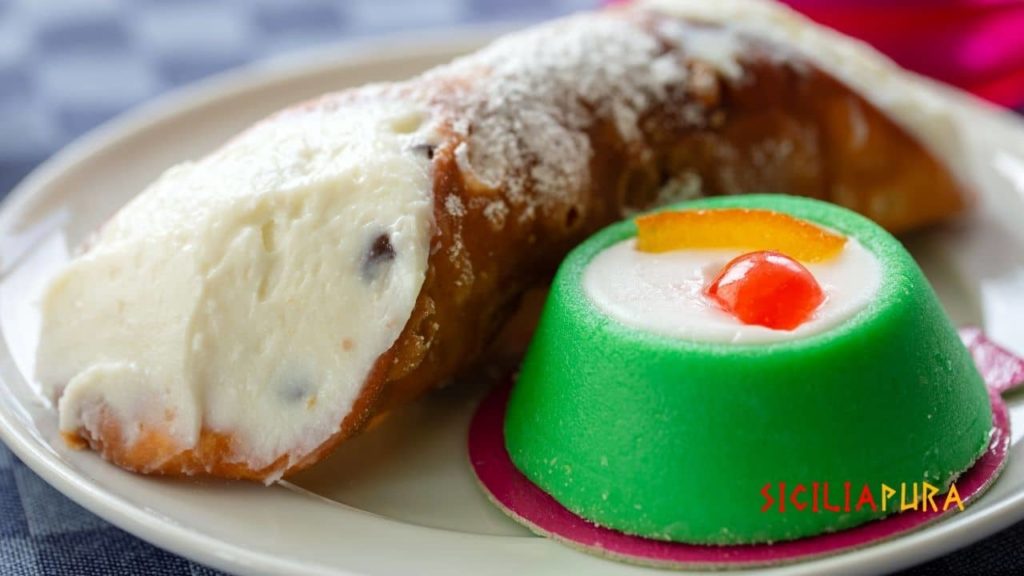 Just imagine a tasty, fresh, sweet ricotta cream enclosed within a rolled fried pastry. Sicilian cannoli are an absolute must for anyone visiting Sicily, to be eaten on practically any occasion.
Let's stick to the sweet side and talk about the queen of Sicilian products, cassata. Here, too, the protagonist is fresh sheep's ricotta, an ingredient produced in this land that gives it a more intense flavour than elsewhere. Cassata also includes sponge cake and almond paste, known as pasta reale.
Almonds are a typical Sicilian product from which almond flour is made, ideal for making delicious biscuits and pastries. There are several local variations of cassata, but the original must include candied fruit.
Bronte pistachios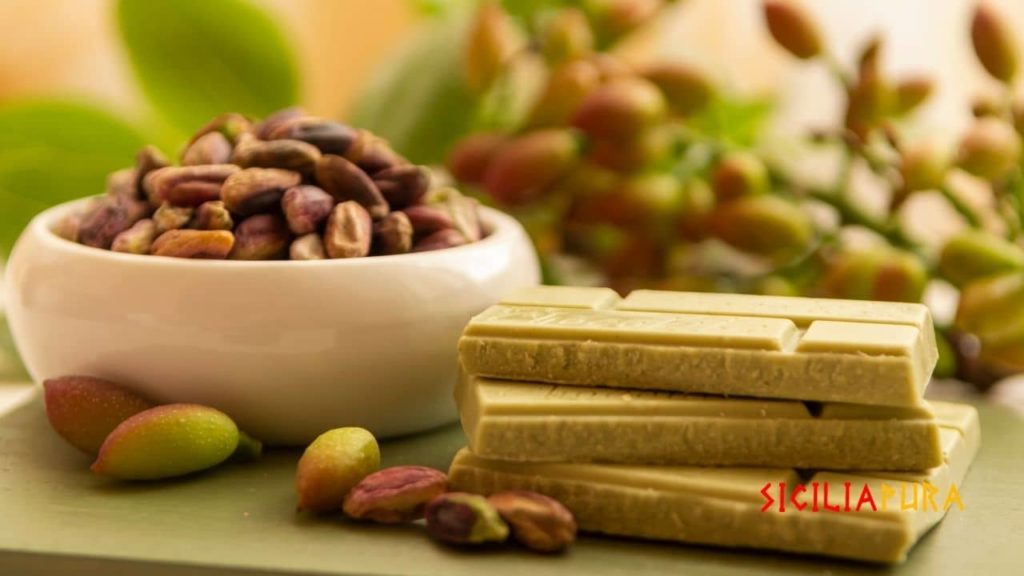 Few things are as certain as the goodness of Bronte pistachios, a typical Sicilian product that is appreciated and known all over the world. The Bronte pistachio plant comes from Western Asia and is called Pistacia vera.
The Sicilian pistachio is also used to make Bronte pistachio cream and many other derivatives, but it is certain that, if you try them, you will not be able to do without them! Many try to copy our speciality but only we have the real Bronte pistachio, try it with ice cream and you will understand the difference.
Caponata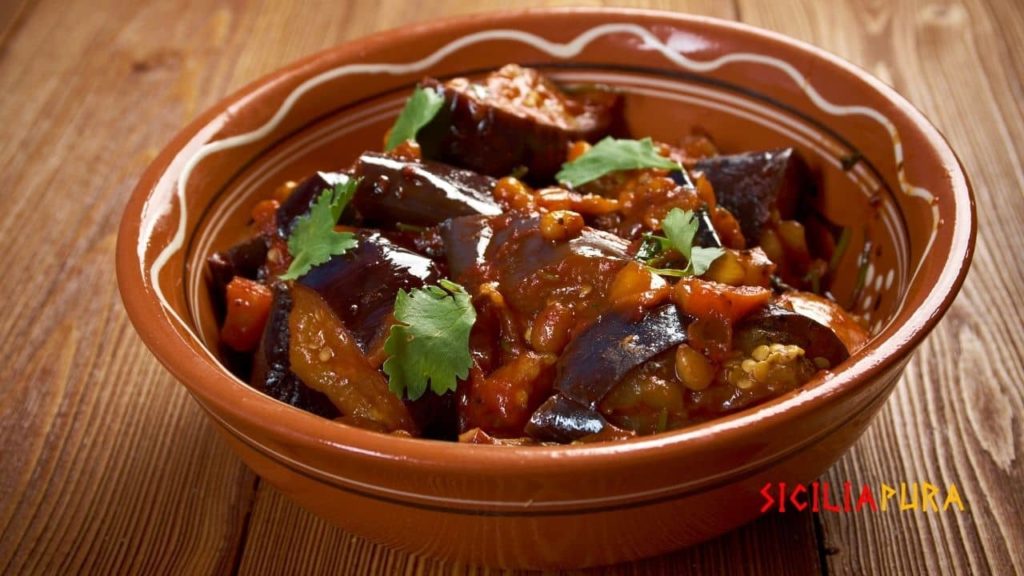 The special thing about Sicilian products is that once you have tried such intense flavours, it will be hard to go back. Caponata is one of the typical Sicilian ways of cooking vegetables. It is a poor man's dish that has become one of the best in Sicily and is a must on any table that wants to respect tradition: its taste is slightly sweet and the protagonist is the aubergine. The caponata has different variations depending on where you are on the island.
Thechocolate of Modica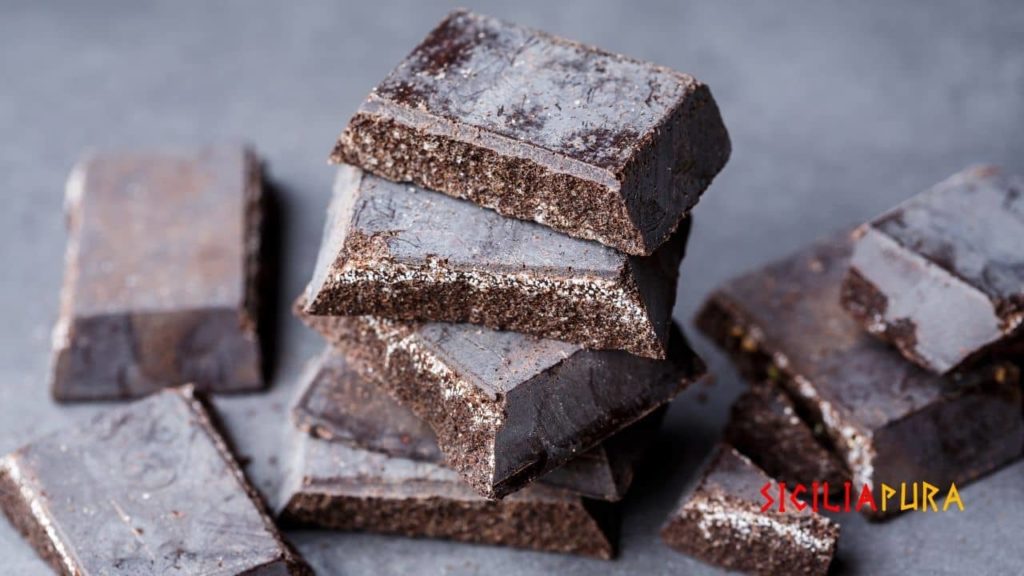 Directly from the small county of Modica in the province of Ragusa comes one of Sicily's most sought-after typical products. Cioccolato di Modica was the first to be awarded European PGI certification.
A raw chocolate obtained by processing at low temperatures, according to tradition. It is a very fine product, with a minimum cocoa content of 45% and enriched with vanilla, cinnamon and many other flavours.
Sicilian wines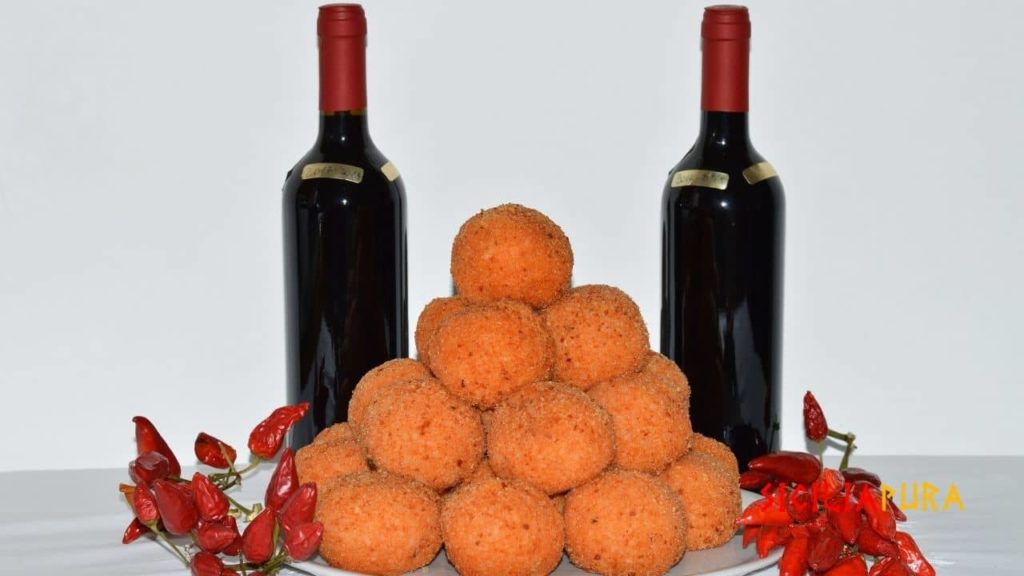 ---
Sicilian wines are among the finest in Italy, including Nero d'Avola, Nerello Mascalese and Frappato among the reds, while the whites include Grillo, Inzolia, Grecanico, Malvasia delle Lipari and Moscato d'Alessandria. Not to mention the international Chardonnay, Merlot and Cabernet Sauvignon.
---